Goal
If you are looking for self-discovery through understanding your emotions then this retreat is perfect for you, helping to change your perspective in areas of your life that may be limiting or frustrating you.
Methodology
This retreat shows you how to relate your emotions to the Five Elements, as a way of understanding any negative behaviours. This is explored through listening, sharing, guided meditation, engaging your sensual awareness and your intellect.
Suitability
This retreat is perfect if you:
are interested in personal growth and transformation
feel frustrated by certain emotions you experience
want to get a clearer understanding of what drives your life choices and change those that don't serve you
wish to overcome recurring behaviours that may frustrate your relationships and creativity
are curious about the relationship between physical discomfort and emotional pain
Results
learn about the emotions related to each of the Five Elements and their significance for you
understand your emotional constitution type and how to use them for your benefit
gain greater self-awareness to make better life and health choices
feel more able to let go of what no longer serves you and open the way to positive changes
2 days

320€ p/p

2 Treatments

| 2 DAYS - 5 ELEMENTS MINI RETREAT INCLUSIONS:  | DURATION | TREATMENTS |
| --- | --- | --- |
| Emotional transformation and self-awareness - Group Session Through the 5 Elements (Water, Wood, Fire, Earth, Metal /Ether) | 120 | 2 |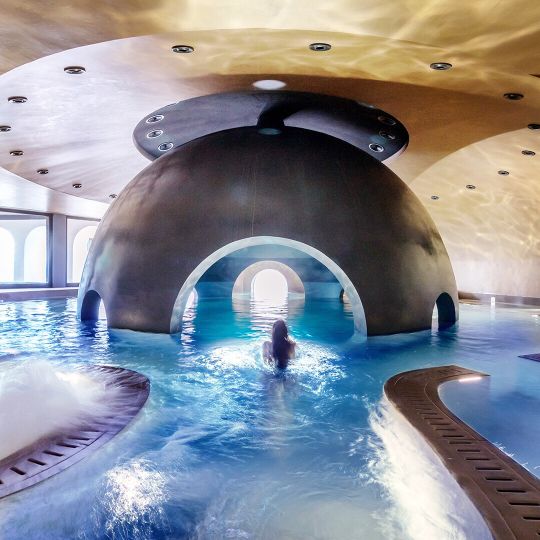 Our Gift To You

You are welcome to spend as much time as you like enjoying our beautiful spa. We have extensive facilities spread over four floors: outdoor and indoor pools leading to the meditative experience of our Sphere Pool with hydrotherapy; the Tepidarium with steam baths, Finnish sauna, cold plunge and ice mists; the Waterwell with Kneipp Walk Therapy and indoor and outdoor relaxation and recreation spaces and a state-of-the-art Technogym-equipped gym. We also hold different complimentary, daily activities such as lectures, morning hikes, TRX, yoga, Pilates and fitness classes.
Add on Treatments
| TREATMENTS | DURATION (in min) | TIMES |
| --- | --- | --- |
| 5 Element Balancing Treatent | 50 | 1 |
| Watsu | 50 | 1 |
| Sanctuary for the busy minds | 50 | 1 |