Goal
This is a fun and engaging process for seeing the passage of our life's path. For those short on time, it also gives you space to reflect on your life decisions and where they are leading you.
Methodology
Join our expert leaders to explore the narrative of The Odyssey, along with the Five Elements philosophy and meditative sessions. You will contemplate in Euphoria Retreat's unique way of incorporating metaphor, discussion and physical activities.
Suitability
This retreat is perfect if you:
want to overcome any life blocks
want to find more meaning and fulfilment
discover your heart's true desire
are ready for change
Results
understand more about your physical body and psychological characteristics
reflect on how your decisions may be limiting your possibilities
learn how to change patterns that no longer serve you
get in touch with your heart's desires
align more closely with your life's purpose to create and manifest positive energy and experiences
enjoy the epic tale of The Odyssey, the world's most widely-read book
delve deep into the Five Elements
laugh, share and transform joyfully
5 days

1.325€ p/p

14 Treatments

| 5 DAYS ODYSSEUS JOURNEY INCLUSIONS: | DURATION | TREATMENTS |
| --- | --- | --- |
| Group Session Through the 5 Elements (Water, Wood, Fire, Earth, Metal /Ether) | 120 | 5 |
| Group Forest Meditation and Energy Movement | 50 | 1 |
| Group 5 Element Dance Therapy | 45 | 1 |
| Salt Room | 20 | 1 |
| Group Euphoria Byzantine Hammam Ritual | 60 | 1 |
| 5 Element Balancing | 50 | 2 |
| Sanctuary for Busy Minds | 50 | 1 |
| Watsu | 50 | 1 |
| Labyrinth Meditation | 45 | 1 |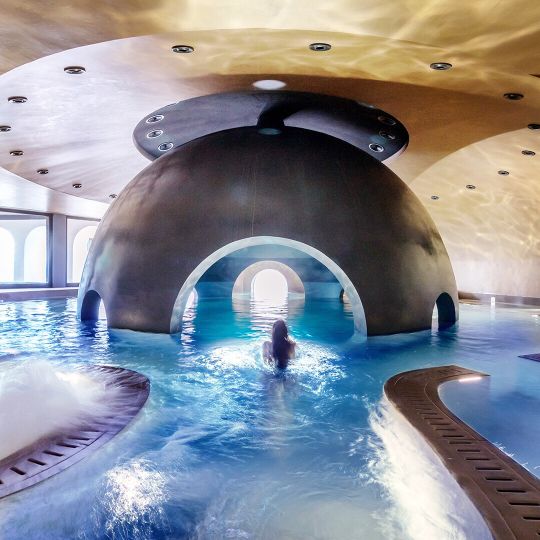 Our Gift To You

You are welcome to spend as much time as you like enjoying our beautiful spa. We have extensive facilities spread over four floors: outdoor and indoor pools leading to the meditative experience of our Sphere Pool with hydrotherapy; the Tepidarium with steam baths, Finnish sauna, cold plunge and ice mists; the Waterwell with Kneipp Walk Therapy and indoor and outdoor relaxation and recreation spaces and a state-of-the-art Technogym-equipped gym. We also hold different complimentary, daily activities such as lectures, morning hikes, TRX, yoga, Pilates and fitness classes.
Add on Treatments
| TREATMENTS | DURATION (in min) | TIMES |
| --- | --- | --- |
| Royal Euphoria Bodywork | 60 | 1 |
| Transformation Consultation | 60 | 1 |
| Reflexology | 50 | 1 |