Goal
If you are looking for a path to more meaningful relationships, this creative and transformational retreat will teach you how to enjoy open, heart-to-heart communication in your relationships. It will also tackle that feeling of being misunderstood.
Methodology
Using the Five Elements, our loving experts will guide you through practices that engage your sensual body awareness, reveal your emotions and stir your intellect to gain a deep and fulfilling approach to intimacy and friendship.
Suitability
This retreat is for you if you:
Feel that your expectations of yourself define or limit your relationships

Feel that expectations from others define or limit your relationships

Experience a sense of hopelessness around communication in relationships with certain people

Feel easily misunderstood by others

Are unable to fully express, or be true to, yourself in an intimate relationship.
Benefits
You will:
Experience deeper and more fulfilling relationships

Free yourself from your limiting beliefs and expectations of yourself

Trust yourself to open up and share your inner feelings more authentically with yourself and other people

Express your emotions more easily

Listen more actively and accurately

Grow levels of joy, intimacy, and gratitude in your daily life.
3 days

450€ p/p

5 Treatments

| 3 DAYS EUPHORIA MEANINGFUL RELATIONSHIPS MINI RETREAT INCLUSIONS: | DURATION | TREATMENTS |
| --- | --- | --- |
| Understanding your relationships and yourself -Group Session Through the 5 Elements (Water, Wood, Fire, Earth, Metal /Ether) | 120 | 3 |
| Group dining in the candlelit private dining room with mentor | | 1 |
| Watsu for Couples | 90 | 1 |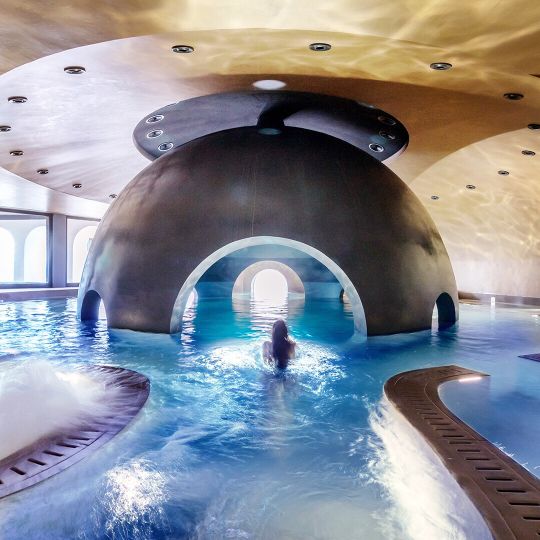 Our Gift to All Our Guests
You are welcome to spend as much time as you like enjoying our beautiful and extensive facilities spread over the four floors of our Spa: outdoor and indoor pools leading to the meditative experience of our Sphere Pool with hydrotherapy; the Tepidarium with steam baths, Finnish sauna, cold plunge, and ice mists; the Waterwell with Kneipp Walk Therapy and indoor and outdoor relaxation and recreation spaces.
We hold different complimentary, daily activities such as lectures, morning hikes, yoga and fitness classes and a state-of-the-art Technogym-equipped gym. Our roster of activities includes yoga, mat Pilates, TRX, energy movement and fit walks.
Add on Treatments
| TREATMENTS | DURATION (in min) | TIMES |
| --- | --- | --- |
| Personal Yoga Session | 60 | 1 |
| Byzantine Hammam Ritual | 60 | 1 |
| Transformation Consultation | 50 | 1 |